Skip Navigation
Website Accessibility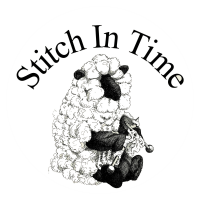 World Wide Knit in Public Day
June 8, 2019 is designated this year as World Wide Knit in Public Day. It's a chance to demonstrate just how many knitters there are in this world, as well as to unite with others around the world in this creative and peaceful act. I strongly encourage you to join in the act!
It's a Saturday in the spring and I am mother to a baseball player, so I will be joining in by knitting at the fields. It's a tournament, so I have no idea yet how many ball fields I will knit near this day. Or whether I will be seen knitting as I walk to a concession stand or perhaps a nearby coffee shop (oh, please let there be a nearby coffee shop!). If we have time to take a meal in a restaurant, I will be seen knitting there.
Yes, on June 8 I will participate in World Wide Knit in Public Day - maybe not near a yarn shop or at a community center that is hosting an event. But I will knit in public that day, as I do every day. Knitting is such a portable craft that I always have something with me. I encourage you to do so as well.
What I knit on-the-go and in public is not always my most elaborate project. If I need to refer to a pattern or am working a stitch pattern that requires a bit more concentration, I may hold that for times near a chair and a table (although I did successfully knit the Little Coquette Shawlette which had a lace edge while walking the park behind St. Patrick's Cathedral in Dublin, Ireland, and while awaiting my tour of Trinity College with the project around my shoulders as I knit). There are numerous charity knitting projects that one can have on hand for times in line at the grocery store (as I was just yesterday, with several people commenting or asking about my project). Hats, cowls, even simple socks are great to have on hand. Currently I have been carrying around cotton dishcloths to give as Random Acts of Knitting (the baseball parents were excited to receive a little something for no reason in particular).
To be honest, I never feel like I "wait" in any line when I have something on my needles to get a few stitches worked. And the number of conversations that are generated is a delight to me. When my conversations can be about the charity for which I am knitting, I see that others are impacted and perhaps even put it on their mind to find something they can do to help others. Kind gestures do not have to be grand, but when united with other like-minded people, the impact is magnificent.
I encourage you to be *seen* knitting (not only be seen wearing or using what you knit, but do that too)! [Below is a photo of me knitting in the gardens of Highclere Castle in England, wearing a poncho I had knit and knitting the Abhainn Mór Shawl I purchased yarn and pattern for in Dublin. What a great memory prompter this photo and that shawl remain!] Do it on June 8 as part of a greater group for World Wide Knit in Public Day. But do it any day just for your own pleasure! You never know whom you will inspire to meet you at your LYS to learn to knit!