Skip Navigation
Website Accessibility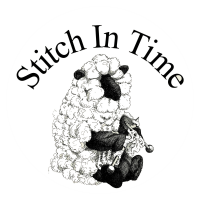 Facebook LIVE Sale, Tomorrow, 7:00pm
Dear Friends,
Hello! I hope you are happy, healthy and feeling good about things getting back to normal.
I am planning to re-open on July 6th, but by appointment only and just 1 person at a time. It's kinda tight in here and I think people might feel a bit overwhelmed at first. Everyone is still welcome to do all the group knitting you would like outside. Currently people are meeting on Wednesday and Saturday. Feel free to invite friends and start your own perfect time/day. I'm happy to set up the canopy for some shade.
Knitting instruction will be private for July, 1 hour for $20.00. Call to schedule and get help with all the projects you need. (517) 546-0769
Did you hear about the Wobble Gobble Sock Yarn Club starting next month? Cost is $170 plus tax to be paid when you pick up your first hank in July. You will then receive a specially dyed hank for the following 5 months. All colorways are exclusive to Stitch In Time, and they are spectacular. This is my biggest club and you do not want to miss it. Super excited! Please tell your fiber friends. Just a few more openings! Hurry!
BIIIIGGGGG Facebook LIVE event tomorrow night at 7:00pm. We put some more leaves in the table to accommodate all the wonderful lots. This will be the biggest one yet! Then I will have one more next Wednesday for June. Starting in July, I will switch to once a month, schedule to follow.

Would you be interested in getting a TEXT message reminder for the Facebook Live events or any exciting happenings here at Stitch In Time? I'm not sure, but I think my new system allows me to send text messages. Give me a call if you are interested. (517) 546-0769






It's not too late to get your free Casapinka "Hug Shot" pattern. Just purchase 2 hanks of sock yarn and I'll give you a code for the pattern for FREE! So generous of Casapinka to help out this way. Looks like a fun, easy pattern too. I'm happy to text photos of combos if you like. My cell is (517) 404-1477. Hurry, deadline fast approaching!

Thank you so much for taking the time to read my emails, much appreciated!

Hope to see you tomorrow night for the LIVE event!

XO!
Charlene