Skip Navigation
Website Accessibility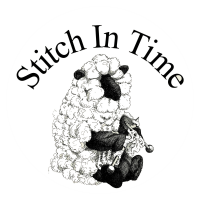 Facebook Live - TOMORROW at 12:00 Noon
Dear Friends of Stitch In Time,
Hello! Are you available to join me tomorrow for another GREAT Facebook Live event? The table is super full of so much awesome yarn, you don't want to miss it! Be the first to comment SOLD Lot..... and you get the deal. Don't forget, you don't always see everyones comments until the event is over. No idea why??? But everyone can figure out who won, what, the same way Randy and I do. Change the order of the comments to "Newest", which puts the oldest comment at the bottom...so whoever commented FIRST will be at the bottom. We sort things out and double check then post the winners in the same comment thread that you were commenting SOLD. Please be positive before you comment SOLD. All sales are final. Cash, check or Venmo preferred please. If you see you won something, please contact me on Tuesday at (517) 546-0769 shop or (517) 404-1477 cell. Then we can figure out the payment/pickup info.
WOBBLE GOBBLE SOCK YARN CLUB!
Don't miss our first EVER yarn club with Wobble Gobble! It is going to be fantastic! She already sent me a photo of the yarn for December, it is absolutely magnificent! Cost for the 6 month club is $170 plus tax. You will pay when you pick up your first hank in July. Then for the following 5 months you will just come in to pick up your specially dyed hank. These colors will be exclusive to Stitch In Time. If you are not local, I can ship, it will just be a bit more for your club. The sock yarn is plied, 80% superwash/20% nylon.
Hope you have a healthy, wonderful weekend with time to relax and create!
XO!
Charlene
Stitch In Time
722 E Grand River
Howell, MI 48843
(517) 546-0769 shop
(517) 404-1477 cell
www.stitchintimemi.com