Skip Navigation
Website Accessibility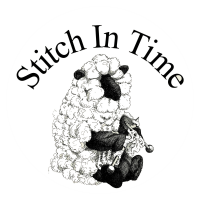 More DEALS! Monday, Wednesday, Friday! Facebook LIVE at NOON!
Dear Stitch In Time Friends,
Hello! Randy and I are getting the table ready for another GREAT selection of things for tomorrow. Join me on Facebook at 12:00, Noon! Hard to believe all the things I had tucked away around here. Get yourself some super deals on some wonderful things. Be the first to comment SOLD... Lot # and you get the deal. Some people don't see all the comments while the event is Live. But afterwards you can go to the comments thread, change order from "Most Relevant" to "Newest". Then you can scroll down to the bottom and work your way up to see who commented first. That is the only way we know how to do it. Randy and I double check each other that way and then post the list in the comments thread as well.
As of right now we are planning to do 3 LIVE events this week. Monday, Wednesday & Friday at 12:00, Noon.
We have been working every day on the new POS/Website system. What a ginormous job. I can't tell you how happy I am Randy is here to help me. No way could I do all this on my own.
Today we were able to get all the of Koigu up on the site. Wow! We really have a lot of colors. I have listed them by dye lot groupings. This is such a fabulous merino wool. Love the twist on this yarn.
Koigu
Look at this gorgeous color!
Now for some very exciting news!
NEW SOCK YARN CLUB COMING SOON!
Exclusive colorways from Wobble Gobble.
This club will start in July. Hopefully on the 1st.
6 month club. Ends in December.
Space is limited to 20 like the last club.
So thrilled to be getting more yarn from Wobble Gobble, was getting a little low. The fact that they are special colors dyed for Stitch In Time, makes my heart so happy.
Don't have the numbers worked out yet, but you can sign up with "Interested" for now.
Hope you can join me tomorrow at noon.
XO!
Charlene
Stitch In Time
722 E Grand River Ave
Howell, MI 48483
(517) 546-0769 shop
(517) 404-1477 cell/text
stitchintimemi@gmail.com
www.stitchintimemi.com