Skip Navigation
Website Accessibility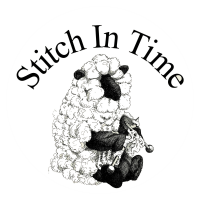 Facebook Live - TOMORROW at 12:00 noon
Dear Stitch In Time Friends,
Ready for another Facebook LIVE event? Friday at 12:00, Noon! You won't want to miss all the special deals. Have another big cross stitch lot, some fun furry yarn that's awesome for felting or edgings, big lot of weaving books (including some OUT OF PRINT!), some cone yarn, bags, and LOTS and LOTS of yarn. Be the first to comment SOLD Lot.......and you win the deal. I'm very sorry that it can be frustrating sometimes when people have faster internet. The "delay" of my Live video is different for everyone, even if you are watching it Live. After the Live is over, Randy and I will list the comments in newest to oldest...then start at the bottom to see who got what. I will then post a comment in the same thread as the Live video and you can see who was quickest.
Facebook
Randy and I have still been trying to add things to the new website but it's been difficult with setting up for the sales, organizing it after and getting things to the post office. Today I was able to load a few beautiful books if you would like to take a look.
Website
If you win some things in the live event, and would like something added from the shop, I am happy to do that. The shop is closed still, but you can do back porch pickup or I can ship.
Have you seen the absolutely GORGEOUS shawl that Casapinka designed called Breathe and Hope? She has done a marvelous thing for all LYS to help out this weekend (it would have been LYS Day Saturday). Buy 2 hanks of sock yarn from me this weekend, and get the pattern for free! After you buy the two hanks, I give you a code and you MUST download the pattern right away! Pattern goes on sale Monday and the code will not work. Please feel free to text me on my cell phone (517) 404-1477, tell me what colors you are thinking and I will get you some pictures to pick from. You can also see lots of in stock sock weight yarn on the new website. Isn't this shawl stunning?!
Thank you so much for all of your support, not just during this situation but for almost 30 years. I am so grateful to you all!
XO!
Charlene