Skip Navigation
Website Accessibility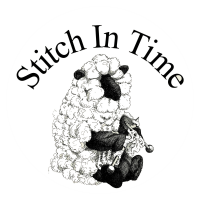 Changes



by JuliAnne Pardon Diesch
I hear lyrics in my head. All. The. Time. If you are anywhere near me (six feet is plenty close enough), you are likely to hear some of them being sung. I apologize in advance to anyone with perfect pitch or even a good enough ear to recognize the limitations of my voice. I will, at least, have the lyrics right. So many run through my mind (and out my mouth - you should probably feel pity for my children, unable to escape me) these days, not the least of which is David Bowie's "Changes" - particularly the lines, "And so the days float through my eyes but still the days seem the same."
Without our usual activities to fill our time, it is easy to start feeling this way. Luckily, we are living in a time of technological advancements that permit us to video chat with one or more people at a time, participate in a Facebook LIVE event, and even make purchases for pickup or delivery. Creative makers have written and released new patterns, encouraged us to join in a collective Knit-Along [KAL], Crochet-Along [CAL], Quilt-Along [QAL] or other Make-Along [MAL]. Families are experimenting with bread baking (sourdough, yeast-risen, or quick breads), challenging one another to create art - or recreate famous art pieces with items on hand, playing board games and building puzzles, and generally trying to find creative ways to make the days seem somewhat different from one another.
Charlene at Stitch In Time has been making some massive changes as well. She has launched a new website and is adding in her vast inventory for online purchasing. While those of us accustomed to coming into the shop to squish (and sniff) our selections before deciding what will work for our next project cannot wait to be able to do this again, we CAN still get our hands on the gorgeous yarns she stocks. She has another shop-exclusive bag available (pictured above with five skeins of Comeragh Yarn that can only be purchased in the US from Stitch In Time and a hank of her mink yarn - with plenty of room to spare for more yarn; the other side of the bag features a clear zippered pocket that can hold the pattern for convenient reference), the ceramic mug with an incredibly stable base, as well as books and everything you need to create the patterns within the books (or the patterns she designs, also available on the website).
As she has been pulling yarns to build the online inventory, Charlene has realized that there are many dear hanks, skeins, balls, and even kits that are now-discontinued colorways or yarn lines. To save some time, she has assembled these into "lots" and put amazing prices on them, and a few times a week has been going LIVE on Facebook to "auction" the lots to lucky makers who tune in. She describes the items in each lot, shares the price, and interested buyers try to be the first to type "SOLD Lot [number or letter]" to secure the purchase. These items are available for free, contactless pickup or shipping (fees apply).
These Facebook LIVE auctions have changed the way people can support small businesses like Stitch In Time, and seeing some different yarns (and projects Charlene has knit with them) has changed the Queue for many makers watching. It's been a fantastic opportunity to cast on projects that are different from others we have made, to learn a new technique, or realize that a virtual "knit night" has increased in importance when we cannot attend a Stitch-In in person. What hasn't changed (at least for me) is the comfort I derive from the act of creating something with my hands. [Currently I am trying to finish up an MKAL whose deadline for finishing I missed, the Climbing Mountains Cowl, pictured below in Malabrigo Sock yarns from Stitch In Time and another speckled skein I had in my stash; I have already cast on for the Breathe and Hope KAL ongoing, but want to finish this before I really start knitting on that shawl designed by Casapinka; Charlene has some beautiful yarns with which you can knit that!]
Another song I keep hearing in my head is one I sang in my elementary school chorus (talk about changes...I was actually a soloist on this song), "I Want to Live" by John Denver. "For the maker and the user and the mother and her son; I am looking for my family and all of you are mine...
"I want to live, I want to grow
I want to see, I want to know
I want to share what I can give
I want to be, I want to live."
May we all weather the changes happening in this world, and may we live to come together again when it is safer for us to do so. Be well.