Skip Navigation
Website Accessibility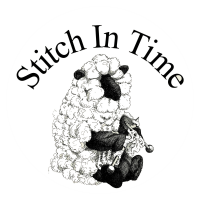 Congratulations to Charlene and Stitch In Time! Thirty years ago, on May 1, 1991, the doors opened at Stitch In Time, beginning a legacy that few small businesses maintain (and even fewer local yarn stores achieve).
Coming inside the shop always feels like a celebration to me - the colors of all the yarns, samples knit to draw the eye and inspire action, and the smile that comes through Charlene's eyes and voice (even if a mask covers her mouth)!
In my house, Spring and Summer include baseball and band camp - and both involve a lot of time in a vehicle! Be certain to check out Charlene's sock patterns and the hundreds of beautiful yarns she has to knit them up. These are perfect on-the-go projects! I try to keep some socks on the needles to work on in the car or even while walking during warm-ups before a game. If you don't yet know how to knit socks, arrange to join Charlene's class time to set off knitting on the right foot (or the left one...most socks are interchangeable!)!
If you don't care for socks as a small project to keep near to hand, consider getting a jump start on hat knitting for the inevitable cooler temps. (Who knows? This is Michigan, so hat weather may be this weekend!) There is something to knit in every season. Enjoy!